INTERDUBS is a streamlined, intuitive posting site that allows you to focus on the important stuff-The creative content.
Your Work and your design
When your clients use INTERDUBS all they see is
your company
and
your work
. Every aspect of the client pages can be customized. We would not dare to put our logo on
your
pages.
Please click on the images for some examples: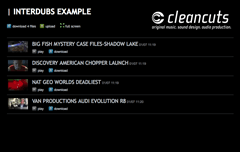 review and approval

websites

sales reels
We provide our clients with a growing list of templates:

INTERDUBS templates
© 2018 INTERDUBS llc Santa Monica California