I just wanted to let you know how pleased we are with INTERDUBS. It's really working well for us.
Your Work and your design
When your clients use INTERDUBS all they see is
your company
and
your work
. Every aspect of the client pages can be customized. We would not dare to put our logo on
your
pages.
Please click on the images for some examples: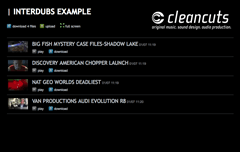 review and approval

websites

sales reels
We provide our clients with a growing list of templates:

INTERDUBS templates
© 2018 INTERDUBS llc Santa Monica California